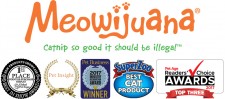 Meowijuana®, A Natural Catnip Company, is pleased to introduce several new items to its natural Catnip and Catnip Toy line at the 2019 Global Pet Expo Show. All new items displayed at booth #5744 at the Orlando Convention Center March 21-23.
KANSAS CITY, Mo., March 14, 2019 (Newswire.com) - Meowijuana® has extended its wildly popular line of Natural Catnip Blends with the introduction of Mice Dreams and Whisker Tickler. These two playful blends include Passion Flower and Lavender in Mice Dreams, and Chamomile and Dandelion in Whisker Tickler.
Additionally, the company is introducing three new refillable catnip toys - the "Get Buzzed Bee" with Wand, the "Get Baked Cookie" and the "Get Smoked Trout." All are refillable and come with a tube of premium Meowijuana® catnip. Meowijuana® is also adding to its line of premium quality natural Catnip Oil with a new 3 oz. spray size and a new convenient PDQ display for retailers.
"We're excited to launch these new Meowijuana® natural catnip products during this year's show and offer retailers and cat lovers great new, natural items to enhance playtime and a healthy, active pet lifestyle," said Founder, Chris Glissman. The toys offer great choices for active play and can be refilled and interchanged with any of the Meowijuana's natural, premium catnip blends.
The new catnip blends and toys, in addition to the entire Meowijuana line, offers natural, premium catnip grown and processed in the United States and Canada. Meowijuana products do not contain CBD, Marijuana, or any THC. Meowijuana is based in Kansas City, Missouri.
To see the company's full line, visit Meowijuana.com.
Source: Meowijuana LLC
Share: